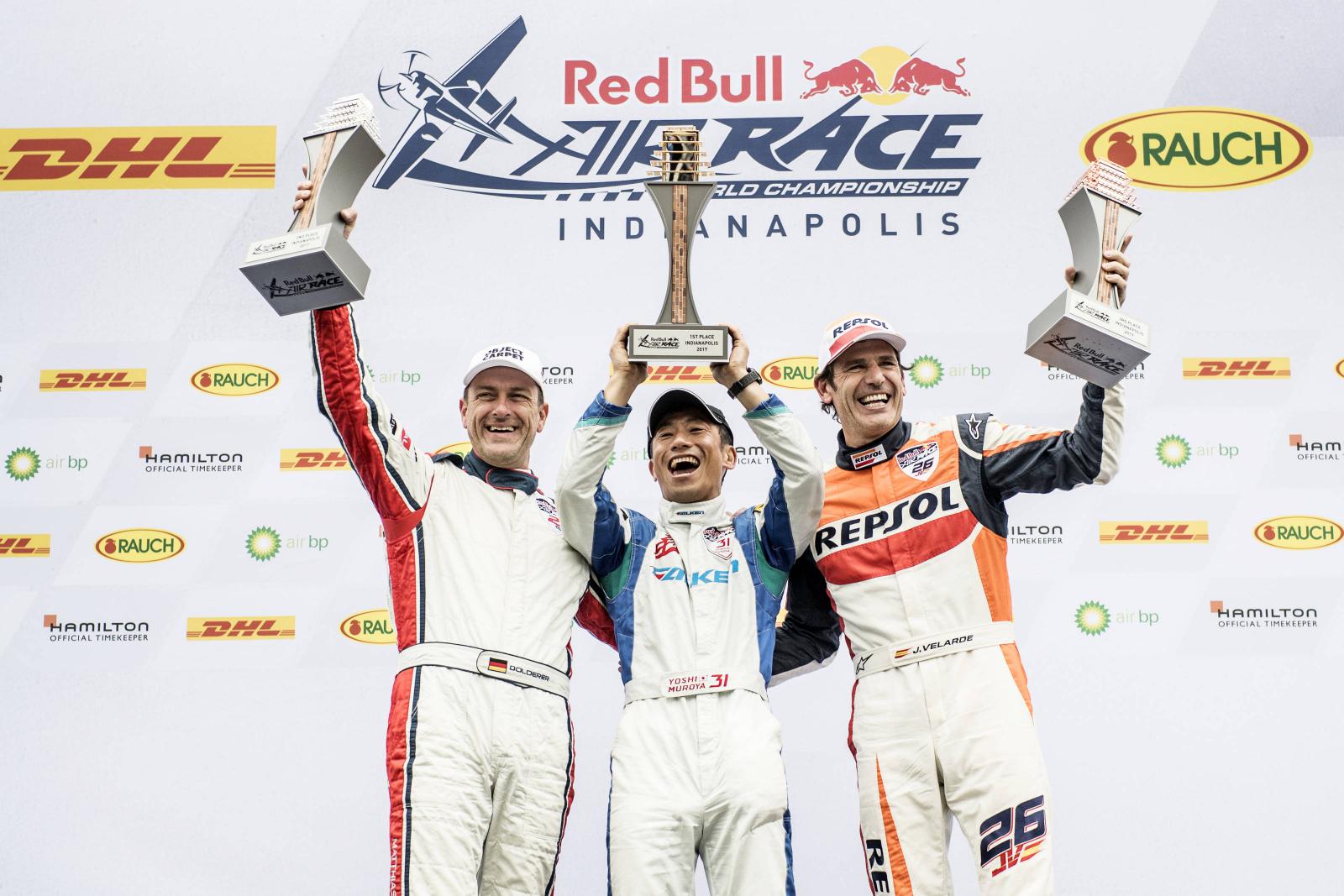 15
OCT
2ND PLACE IN INDIANAPOLIS
RED BULL AIR RACE 2017 - INDIANAPOLIS
16th October 2017
Second place in Indianapolis reconciled Dolderer with the season
A fantastic second place at the Red Bull Air Race season's final on the Indianapolis Motor Speedway in the USA reconciled German title defender Matthias Dolderer with the season. At the "holy grail" of motorsports he was only defeated by the new World champion Yoshihide Muroya of Japan, who snatched the title from Czech Martin Šonka at the last minute. Canadian Pete McLeod took bronze overall, Spaniard Juan Velarde finished third in Indianapolis.
Indianapolis (USA) – What a showdown at the 2017 Red Bull Air Race World Championship: Muroya started the eighth and last race of the season on the Indianapolis Motor Speedway four points behind overall leader Šonka. Since both remaining title aspirants won their races in the Round of 8, the Final 4 was the decider.
Dolderer: "I want to regain the trophy from Yoshi in 2018"
Matthias Dolderer finished runner-up ahead of Spaniard Juan Velarde in Indianapolis. This second place reconciled the German 2016 World champion with the season in which he recorded only one podium place – third place in San Diego – in the previous seven events. "It is great to be back on the podium. It took awhile after all", the 46-year-old said at the concluding official press conference. "I love Indianapolis. Today's result is very important to me and the team – particularly in view of the upcoming year. We are 'back on track'. We shall now first of all analyse the season and then focus on next year. I want to regain the trophy from Yoshi in 2018."
Altogether 40,750 spectators watched the action on the Indianapolis Motor Speedway on the whole racing weekend.

***
Red Bull Air Race 2017 Calendar

1. Abu Dhabi, UAE 10-11 February
2. San Diego, USA 15-16 April
3. Chiba, Japan 03-04 June
4. Budapest, Hungary 01-02 July
5. Kazan, Russia 22-23 July
6. Porto, Portugal 02-03 September
7. Lausitzring, Germany 16-17 September
8. Indianapolis, USA 14-15 October
About Red Bull Air Race:
Created in 2003, officially a world championship in 2005, the Red Bull Air Race has held over 65 races and is watched by millions of fans. The Red Bull Air Race World Championship features the world's best race pilots in a pure motorsport competition that combines speed, precision and skill. Using the fastest, most agile, lightweight racing planes, pilots hit speeds of 370 kmh while enduring forces of up to 10G as they navigate a low-level slalom track marked by 25-meter-high, air-filled pylons. In 2014, the Challenger Cup was introduced, giving new pilots the chance to develop their low altitude flying skills. Throughout more than a decade of innovation, one thing has remained the same: the Red Bull Air Race World Championship is the ultimate motorsport series in the sky.

Photo Gallery

15 October, 2017

by Admin

Share on Facebook

Share on Twitter